Planning exam study
A carefully planned strategy will significantly increase the effectiveness of your study. These steps will help you to develop an organised approach to revision for tests and exams.
Step 1: Plan
Draw up an overall revision plan covering all of your exams
Using a timetable, write down the dates that you have exams. Block out time slots for each subject that you need to study for and stick to these.
See introduction to time management for more.
Filling in your timetable
Fill in the dates of your exams.
Plan the schedule to match the timing of the exams, beginning with the earliest.
Decide on the amount of time needed to study for each exam. For example, if you have an exam worth 30% of your total mark, and another worth 60%, you may want to spend more time studying the second course.
Have regular breaks. The sample timetable is divided into 40-minute sections as this is a typical concentration span for many students.
Remember to allow times for input (memorising information) and output (retrieving and practising what you have learnt).
Break each session into topics that you will study and practise.
Review your timetable every week.
Download a blank timetable:
An example exam timetable:
John has 3 exams in the following order: Marketing (60%), Research Methods (30%) and Human Resource Management (70%). He arranged his first week's timetable as follows:
Click image to enlarge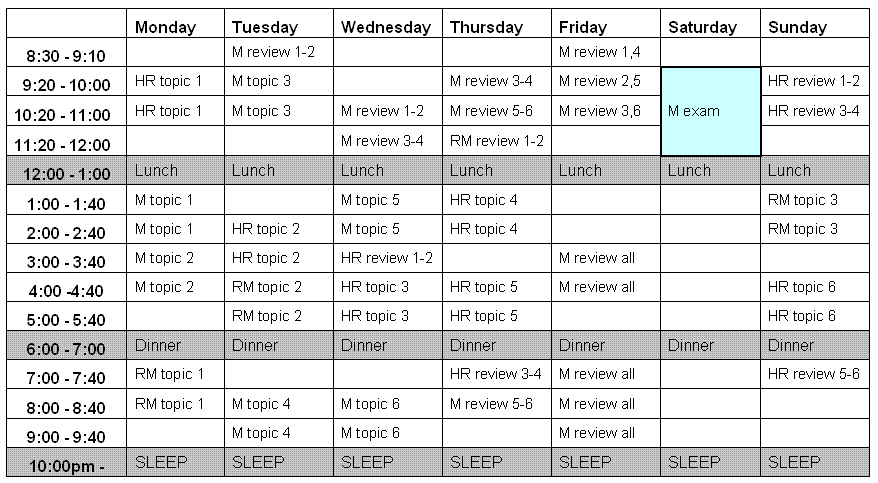 Step 2: Collect information
Gather and sort all the information you have for a course, including:
Study notes
Assignment preparation notes
Stream information and discussions for the course
See gathering and sorting information for more.
Step 3: Find out what topics and types of questions will be covered
Use past exams and information from the course's Administration Guide and Stream to determine:
The examinable topics: which topics are often repeated? Which themes are emphasised?
The type of questions: essays, short answers, multi choice, etc.
The allocation of marks across the different parts of the exam
Step 4: Identify the key concepts in the course
Use the course's learning objectives as a base. These should be listed in the Administration Guide, or at the beginning or end of each topic. If you are using a required text, you might find these at the beginning or end of chapters as well.
Analyse the questions asked in previous exams. Lecturers may not ask the same questions, but the topic areas are often similar. Be aware that the focus of the course may vary from that of previous years.
Check the course's Stream site for any hints or tips.
Step 5: Prioritise your study
Determine the most important sections and relevant timeframes and make these your priority
Base your decisions on the emphasis placed on topics during the semester
Base decisions on the allocation of marks: if the multi-choice section is worth 10 marks and the essay is worth 20 marks, and you have a good indication that you need to study 3 topics, clearly the essay is the priority.
Make calculated and strategic decisions about the number of topics you will need to cover, and your strengths and weaknesses.
Step 6: Memorize
Once you have identified the important topics for a course, learn and remember as much as possible
See memory skills for more.
Step 7: Revise
Work through your notes in a cycle, test yourself, and practice writing the actual exam.
See phases of revision for more.