Turnitin
Massey uses Turnitin which is a web-based tool for checking for plagiarism.
What is Turnitin?
Turnitin is a web-based tool for checking student work for plagiarism. When your work has been checked for plagiarism, a Turnitin score (sometimes called a Similarity index) and sometimes a Similarity report (if enabled) will be generated which tells you what percentage of your text matches text in the Turnitin database.
Often students panic when they see a high percentage, however, usually there is no reason to panic because Turnitin reports a match on common phrases, and quotes. This is why it is important for you to be confident about your referencing skills and understanding of what plagiarism is (and is not). 
How to submit a draft to Turnitin
If your course uses Turnitin (not all do), you submit your assignment to Turnitin through Stream in the same dropbox that you submit your assignment for final grading. Sometimes lecturers will let you submit a draft to Turnitin before you submit for final grading. This means you can check your Turnitin score and, if needed, make changes to your assignment before resubmitting. Sometimes, however, your assignment will be submitted to Turnitin at the same time as you submit for final grading so changes cannot be made. You will need to check with your lecturer or course coordinator about how they have set up Turnitin access.
If you are able to submit a draft to Turnitin, you simply upload, or drag, your assignment into the dropbox. A notification on the screen will tell you that your assignment has been submitted as a draft.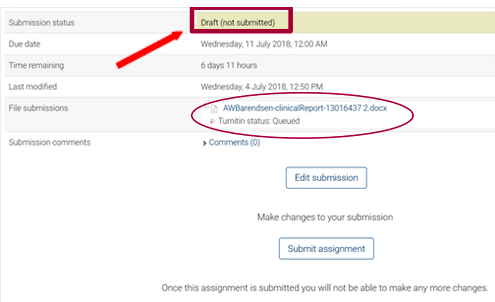 Your Turnitin status will show as queued, which means it is waiting to be checked by Turnitin. It can take just a few minutes or several hours before a score and report is generated. If, however, you have not received email notification after 24 hours that a score and report is ready, then you should contact your lecturer or course coordinator.
How to review a Turnitin report and resubmit a draft
When your Turnitin report is ready, you will be notified by email. The queued status will have changed to a percentage number in a red box. The percentage tells you how much of your assignment matches other text.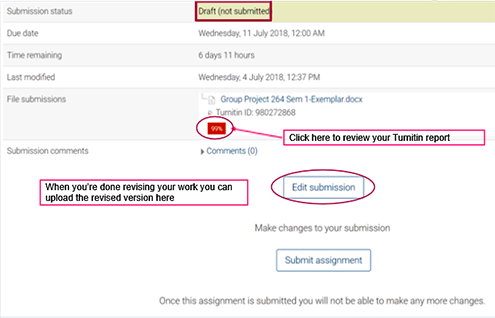 Click on the red box to see your Turnitin report. If you cannot see the red percentage box, then try refreshing your Stream page. Your report highlights matched text and tells you where the matched text is sourced.
Remember, Turnitin matches text with common phrases, names, theories and, of course, quotes. This means a high percentage does not necessarily mean you have plagiarised. If you feel however, you need to make some changes, you can resubmit your assignment draft again. To do this, click on the edit submission button under the red percentage button. A new box will appear with your original file which you can download or delete.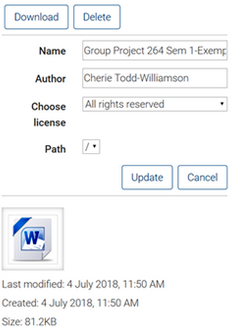 If you upload a new file, it will be resubmitted to Turnitin and a new percentage and report generated. Lecturers decide how often you can submit to Turnitin and this varies across courses. Turnitin will tell you onscreen how often you are able to do this.
When you are ready to submit for grading, simply click on the submit assignment button below the edit submission button. Note: once you have submitted your assignment for grading, you will not be able to make any more changes.
How to create and view your Turnitin report
Here is a useful online tutorial that outlines the steps described for submitting and reviewing a Turnitin report:
How to interpret your Turnitin report
What is plagiarism?
For help understanding what plagiarism is and is not, OWLL has a lot of resources to help: